Functional

Smell Proof Tech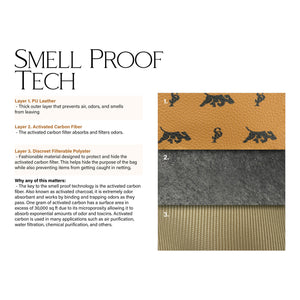 EXCLUSIVE EARLY RELEASES!!
Only 2 of Each!
These Colorways will be released as part of the Spring 2021 & Fall 2021 Collections.
We are releasing 2 of each colorway for those who really love the colors or are really about having they own exclusive drip!
Fashionable
Suiting for festivals, running errands, and night life. 
Testimonials
This bag Is PERFECT. I've been looking around for a smell proof bag that was stylish enough for me to use. The color stands out and pockets are big enough to put your stuff in. It also comes with a few items inside that puts the cherry on top. Would highly recommend.

Amazon Customer
This bag is dope, it's designer bag at a reasonable price. I feel like I'm wearing something from Tom Ford or Fashion Nova when Im wearing this bag and I got to save hundreds of dollars :). The texture/feel/quality of this bag is amazing, and it is very effective as well. If you want to look fly and stand out, this bag is for you. Ive been waiting for a bag like this for a long time. Thank you Snoop Proof Team for the amazing product and can't wait to see what else you come out with in the future. Get this stuff now while its reasonably priced, because when it blows up its gonna be the next Supreme.

Zachary Brody
I've been looking for a smell proof bag that had this designer look and I'm so glad I found this one. I'm amazed at the quality and it even came with some extra goodies. High quality zipper and I like the extra pocket inside.

Abu Abdirahim